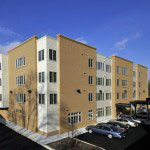 Intercommunity Action is the sponsor of three affordable housing developments for older people. Both Pensdale Village I & II are beautiful apartment buildings for independent people aged 62+. They offer a place of security and comfort, and are just a few steps from the Center at Journey's Way for luncheons, programs, and services. The Social Service Coordinator at Pensdale I & II is a member of Journey's Way staff, and assists residents in both buildings with their individual needs.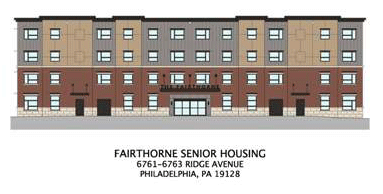 The Fairthorne is a brand new four-story, 40-unit, independent, and affordable apartment building for older adults. It is conveniently located near public transportation, supermarkets, and other community resources. Journey's Way, Resources and Programs for People 55+, will be available to all residents to receive housing counseling, geriatric counseling, and access to our state of the art senior center, The Center at Journey's Way. Supportive social services will be provided by Journey's Way.
Pensdale Village I
420 Pensdale Street
Philadelphia, PA 19128
Telephone: 215-754-0126
Pensdale Village II
4200B Mitchell Street
Philadelphia, PA 19128
Telephone: 215-261-6173
The Fairthorne
6763 Ridge Avenue
Philadelphia, PA 19128
Telephone: 267-746-1320
To apply for housing or know the status of waiting list, please call the above apartments directly.