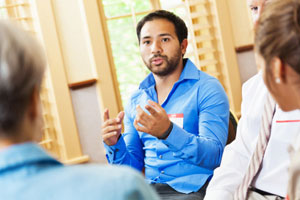 In line with the Recovery Transformation Initiative in Philadelphia, Interact's mental health outpatient programs strive to provide high quality services in partnership with people who are recovering from challenges related to mental health issues. Through the use of strength-based, trauma-informed, and person-first approaches, our highly trained and competent clinicians join with individuals and their families to design goals, objectives, and treatment interventions that will enhance the individual's quality of life as defined by that person.
An individual seeking treatment is typically seen by a master's-level clinician for an initial appointment within two (2) days. At a first appointment, you can expect a thorough assessment which will enable the professional to develop a clinical diagnosis and recommend a course of treatment related to your strengths, needs, and goals.
We also provide psychiatric evaluations and medication monitoring when deemed medically necessary. In these cases we work closely with the participant's primary care physician to monitor side effects and general efficacy of the medication. Mental health evaluation and therapy for children both at Greenridge Counseling Center and in school-based settings also are available.
Greenridge Counseling Center also offers psychoeducational and psychological assessment services. For more information on these services, click here.